Our Pro Shop has everything you need as a golfer. We stock golf balls, bags, gloves, shirts, hats, sweaters, and rain suits as well as custom clubs for men and women. Members can also use a Golf Handicap and Information Network (GHIN) computer on the premises.
Our country club is a member of the Golf Association of Philadelphia (GAP).
Greg Farrow, Head Golf Professional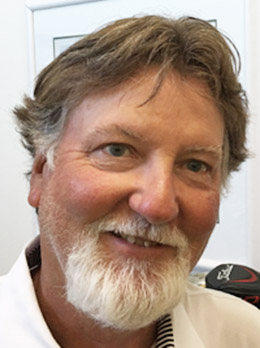 A leading golf professional in Philadelphia and New Jersey, Greg Farrow has been Deerwood's Head Pro since the club opened in 1996. He heads a team of fellow professionals who have extensive member assistance experience. Our skilled staff organizes golf tournaments as well as classes.
Greg was voted one of the 22 Best Golf Instructors in the state in a poll conducted by the New Jersey Golf State Association (NJSGA) magazine in 2002. Greg has top-notch golfing abilities evidenced by countless victories in many prestigious area tournaments. In 1984 and 1988, he made it through the PGA Q School qualifying tourney and became a member of the PGA tour. Trophies he has won over the years include:
• Philadelphia Section PGA Senior Player of the Year – 2004 and 2005
• DeBaufre Trophy (Philadelphia PGA Low Stroke Average) – 2000, 2001, and 2003
• New Jersey State Open – 2003
• New Jersey State Senior Open Championship – 2001
To learn more about our Pro Shop, or if you have any questions about any of the services we have to offer, call us at 609-265-1800 or email us at greg@deerwoodcc.com